Texas NAACP Change the World-Texas Restorative Criminal Justice Plan In the Aftermath of George Floyd
The Texas NAACP recognizes the corrosive and harmful impact of anti-Black racism — and its various cousins  — on our communities. Certainly, it is not an easy problem for Texas or other states to handle. We already see a logjam in Congress and politicization of human rights even as we face two crises: The coronavirus pandemic and systemic racism in policing and the legal system. Both pose an existential danger to African Americans.
Our plan was spurred by the nearly nine minutes in which a Minneapolis police officer kneeled on the neck of George Floyd as he pinned him face down on the ground until Mr. Floyd, who repeatedly cried out for help with pleas, "I can't breathe," died; and also, the challenge issued by Mr. Floyd's brother, Philonise Floyd, who in the aftermath of his brother's horrific death made a call to action for people across the nation and planet to use this opportunity to change the world by eliminating police brutality and the criminal justice system's long-standing dehumanization of Black people
Our state and local units will lead efforts to reach out and create conversations with people of different races, religions, beliefs, political parties, businesses, politicians, academics and corporate officials to discuss how they can deal with this issue at their own local or state level. In some communities, they might consider fashioning this dialogue in a truth and reconciliation body, which in turn, could make recommendations to local and state officials and the private sector about dismantling systemic racism and changing a toxic culture that infects our democracy. We will work with experts in these matters to help communities facilitate such dialogue.

Our state and local units will focus on police departments' recruitment and training of law enforcement personnel. We are advocating for psychological screening tools and effective and curative, anti-racist training, again working with experts, including experts at HBCUs. HBCUs are trusted institutions in our communities. Too often, the training given, to law enforcement in such areas comes from experts outside of Texas, who are less familiar with our state's history regarding African Americans as well as the state's unique legal and political systems. Though a one-size fits all training might seem good on the surface, local communities need to have a say in such matters and the training needs to be customized to fit the data in terms of how African Americans are treated by police, die in custody, are the subjects of unnecessary force in nonviolent situations, are jailed because they cannot afford bonds, racially profiled, or stopped and searched by police in disproportionate numbers that don't comport with crime statistics.
Our Change The World-Texas Restorative Criminal Justice Plan provides valuable resource information, citations and other resources to allow communities to generate the kind of important paragraph necessary to have such a conversation. We also stand ready to deploy our team to help facilitate those discussions for restorative justice. Our position is that the communities should not wait for Congress or the Legislature to Act. This will just delay justice and possibly even deny it.
For additional details and to be a part of the various Town Hall and Community Empowerment sessions, please contact our office at:  325-703-500 or via email at:  info-admin@sanangelonaacp.org 

===========================================
NAACP SUES PRESIDENT TRUMP FOR SYSTEMATICALLY TRYING TO DISENFRANCHISE BLACK VOTERS
December 21, 2020 – The NAACP sued President Trump, his presidential campaign, and the Republican National Committee (RNC) in the U.S. District Court for the District of Columbia for systematically trying to disenfranchise Black voters in states across the country.
The lawsuit alleges that President Trump, the Trump campaign, and the RNC have engaged in a coordinated conspiracy to disenfranchise Black voters by disrupting vote-counting efforts, lodging groundless challenges during recounts, and attempting to block certification of election results through intimidation and coercion of election officials and volunteers.   These steps to delegitimize our democracy were targeted in cities across the country with high numbers of Black voters.  These actions are a clear violation of the Voting Rights Act and the Ku Klux Klan Act.  Read more.
---
---
VOTING RIGHTS CASES
NAACP AND MAYOR BOWSER WORKING TOGETHER TO BRING THE NAACP HEADQUARTERS TO WASHINGTON, DC
JUNE 29, 2020
https://www.naacp.org/latest/naacp-mayor-bowser-working-together-bring-naacp-headquarters-washington-dc/
---
---
Cavs head coach JB Bickerstaff teaming up with NAACP to address Black mental health
https://www.news5cleveland.com/sports/basketball/cavaliers/cavs-head-coach-jb-bickerstaff-teaming-up-with-naacp-to-address-black-mental-health
---
---
Check out the Podcast by clicking the link above.
---
---
Facebook ad boycott: Here's the list of big companies participating | Fortune
https://fortune.com/2020/06/26/facebook-ads-boycott-big-brands-unilever-verizon/
---
The George Floyd uprising has brought us hope. Now we must turn protest to policy | Opinion | The Guardian
https://www.theguardian.com/commentisfree/2020/jun/30/black-lives-matter-protests-voting-policy-change
---
---
---
February 12, 1909- Founder's Day
---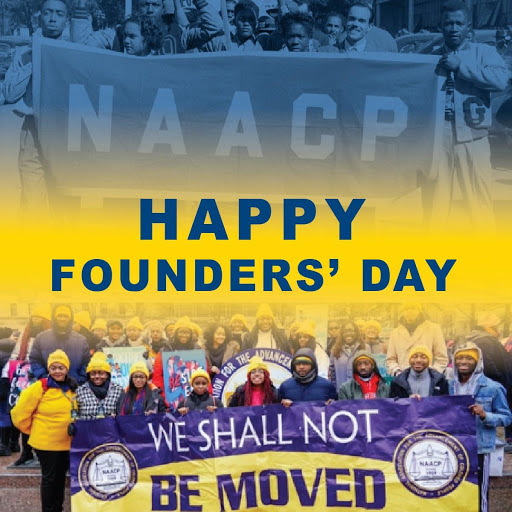 ---
---
February 10, 2020
NAACP CALLS FOR JUSTICE IN THE HATE CRIMES COMMITTED BY HOLDEN MATTHEWS
The National Association for the Advancement of Colored People (NAACP) released the following statement regarding the federal hate crime charges filed against Holden Matthews in the  church burnings in Louisiana:
The hate crimes committed by Holden Matthews in St. Landry Parrish, Louisiana, serve as a stark reminder of the current climate in America that is rife with racism and anti-blackness. Far too often, Black communities find themselves subjected to the ills of white supremacists that seek to diminish and hinder our hope, progress, and standing in this country. This act of domestic terrorism proves to be no different. Holden's targeting of Black churches is a microcosm of the attitude toward others in America who don't identify as white — fueled by the divisive policies and rhetoric of those in elected office.
Churches are incredibly influential in Black culture and serve as a safe space for convening. All Americans deserve to feel safe in their churches, schools, and homes. Hate crimes such as these must be investigated and prosecuted fully at the local and federal level. The NAACP will continue to push Congress for additional hearings and concrete next steps to thwart acts of domestic terrorism against communities of color.
---
---
NAACP CONDEMNS SENATE VOTE ON DONALD TRUMP IMPEACHMENT
February 5, 2020
BALTIMORE (February 5, 2020) – Today, the NAACP condemned the Senate's votes on the impeachment of Donald Trump. Derrick Johnson, President and CEO, made the following statement:
"Today's votes to cover up Donald Trump's crimes against our democracy will be a permanent stain on our nation's history. This is the same democracy for which many of us have sacrificed in order to participate fully and equally.
The Senate votes constitute a dereliction of duty of the highest order. Our Constitution was designed to address precisely this crisis. Donald Trump abused the powers of the presidency by sacrificing his own country for personal political gain and then obstructed the investigation by Congress. Yet a majority of Senators defied their oaths to the Constitution by refusing to protect the integrity and security of our elections and to remove Donald Trump from office.
Donald Trump is not acquitted. Donald Trump is not exonerated. The Senate refused to hold the type of trial required by the Constitution. Therefore, there can be no verdict. Donald Trump will be remembered by history as an impeached president who believed he was above the law. Of course, no one is above the law, not even the president.
For months, the NAACP has been on record in support of impeaching and convicting Donald Trump. He represents a clear and present danger to the nation for a host of reasons. From his reversals of civil rights policies and positions, to telling congresswomen of color to go back to their countries, to separating families and caging immigrant children without food or water, to his attempts to not count everyone in the Census, to his failure to enforce the Voting Rights Act, to his installing the most ideologically extreme and least diverse federal judges, this president has led the most racist and xenophobic administration since the Jim Crow era. We will continue to hold Donald Trump accountable for all of his offenses and encourage everyone to do the same.
Elections are the core of our democracy, and they are still under threat. To reclaim our democracy, we must work harder than ever to protect the integrity and legitimacy of our elections and to ensure that everyone can cast a vote and have that vote count. It's on us now. And we are up to the task. We have no choice.
---
---
---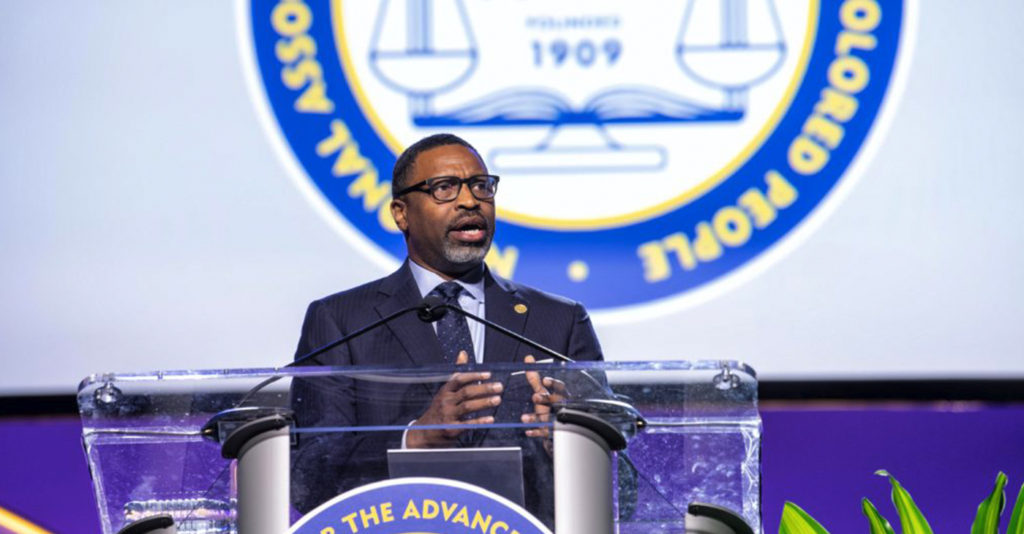 By Derrick Johnson, president and CEO, NAACP
We find ourselves at the beginning of a new Black History Month (BHM) in a distinctive decade during one of the most polarizing times of our lives. Our collective journey to this moment has undoubtedly been challenging. Still, we've been victorious on many fronts to advance our culture, agendas, and narrative on a national platform.
As we come off the heels of celebrating the legacy of Dr. Martin Luther King, Jr., a man who died for acting on his convictions of an equal America, we enter into a critical season of ensuring our vote and voice count. As a people, not long separated from the bondage of slavery, we were once only counted as 3/5 of a person. Without question, the lingering effects of being valued as less than a whole person still exist today through racist ideologies, discriminatory politics, and inequitable policies.
Combating these ills begins with ensuring we fully engage without pause in the 2020 Census, which starts on April 1, 2020. The Census is a cornerstone of American democracy, which is built on the backs of our ancestors. The data collected is used to determine representation in the United States Congress and planning for the future of all communities across the country. $882 billion will be allocated annually in federal funds to state, local, and tribal governments. Programs and services at risk include schools, hospitals, community centers, roads, transportation, and public safety departments. Marginalized communities will suffer if residents go uncounted. All communities must participate, but specifically, communities of color, as our neighborhoods are often the most overlooked. Our interest, as a people and culture, is tied directly to being counted in the 2020 Census. It would be a disservice to our neighborhood and our children if we opted to not engage in the 2020 Census.
At a time when our rights, explicitly voting rights, are under attack, and public officials are more concerned about remaining in power than uplifting societies most vulnerable, we must take every step to protect our households and communities. In 2020, preserving our democracy starts with being counted and voting in the presidential primary. At the least, these two activities send a message that we are paying attention and are actively involved in the trajectory of this nation. Further, it allows us to wield political and social power in a system that historically has shut us out. 2020 is the first year that the Census will be online.
The obstacles put in place by those that wish to see us disenfranchised – from the Census to the ballot box – only prolong the inevitable changing tide and sentiment of this country. We, the people, have the power and ability to create the change we want to see. It starts with becoming civically engaged and demanding those in power act in our interest by creating policies that bring about fair and equal access to the ballot box and beyond.
In December of last year, the NAACP, along with other plaintiffs, won a critical appeals court ruling, which reinstated our federal suit challenging the federal government's inadequate plans for conducting the 2020 Census after the district court erroneously dismissed it. This ruling will help aid efforts to ensure that the 2020 Census properly counts all people, including historically undercounted communities of color, who are at risk of being missed under the Census Bureau's current plans.
This month is not only about commemorating our history but cementing and shaping our present-day legacy for future generations. The dream didn't die with Martin, nor did the fight. It is every one of our responsibilities to bring about the change we wish to see. Each day, fueled by our supporters, we at the NAACP are working to make the modern-day civil rights movement possible, carrying on the vision of those that came before and creating space for generations that are to come. Together, people of color can move to the forefront and ensure we are counted and heard. If you wish to volunteer with us and help get the word out about the Census, sign up here. The 2020 Census is the first year that the form will be able to be completed online. Visit 2020census.gov to find out more.
August 17, 2019
Tomorrow, NAACP members, leaders, supporters, and other public figures will begin a historic excursion from Jamestown, VA to Jamestown, Accra, Ghana. I cannot overstate the significance of this journey.  Follow our journey.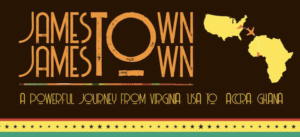 400 years ago, the first enslaved ancestors were brought to this foreign land and forced into generations of slavery. Centuries later, we proudly stand in glory as their descendants—empowered by their legacy and emboldened by the knowledge that we built this country.
As crucial as it is to look back on our history, this journey comes as our nation faces a turning point. Over the last two years under the Trump administration, we have been subjected to racist sentiment that we are less American, and that we ought to go back to where we came from if we don't like the state of our union.
To those people, here is what we must say: We are here to stay. Yes, we may embark on the year of return to pay homage to our history, our journey and our ancestors, but we are American, and there is nothing more American than fighting back against a government that does not respect its people.
So, as we embark on our journey tomorrow, I encourage you to follow along onlineand on social media, and join in on the conversation using the hashtag #NAACPinGhana.
The next ten days will not simply be a reflection on our history, but a rededication to the fight for an equal, just and representative nation.
Peace and Power,
Derrick Johnson
@DerrickNAACP
President and CEO
NAACP
More here!
---
---
---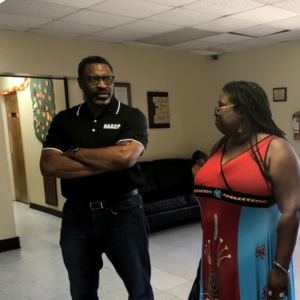 I'm going to ask you to help support the NAACP's immigration work in a moment. But first, I want to tell you about my recent trip to Texas, which I think illustrates why our organization is so committed to this civil and human rights issue.
Last week, I had the opportunity to hear directly from people bearing the brunt of the Trump administration's cruel immigration policies during a visit to the Holding Institute in Laredo. The facility is a non-profit community center that is dedicated to alleviating the harsh and inhumane conditions faced by immigrants.
While walking through the facility, I met a woman who had to leave her teenage daughter in Honduras. It took her 22 days to get to the border where she was separated from her son and has not seen him since. She now fears bringing her daughter to the border as most young girls have a high likelihood of being sold into sex-trafficking during their journey north. I was told about a young mother and daughter being held at a nearby detention center, who had not had a warm bath in months and were only allowed one cold burrito to eat a day to share between the two of them. And I heard stories of immigrants from Ghana, Congo, and Angola who traveled to Brazil to assist with the construction for the 2016 Olympics, were kicked out of their home countries, and now remain at the border seeking asylum. This was a much-needed reminder that the immigration issue is not just cause for concern in Latino and Hispanic communities, but also in the broader Black community.
With each person I met and each story I heard, it became even more evident that the people Donald Trump spends so much time demeaning with his hate-filled speech are only seeking a better life for themselves and for their families—a desire that many Black Americans and other people of color know well.
So, although my heart was troubled when I left the facility, I was also inspired to keep up the NAACP's work to fight back against Donald Trump's racist, petty, and inhumane immigration policies.
We currently have teams across the country that are mobilizing against hate and pushing to make America's immigration system just, but we need more supporters to step up and join us in this fight.
And one of the easiest and quickest ways for you to join us is by signing up now to organize in your community with your family and friends through our Power of Five initiative. It only takes a few minutes, and once we have your crew's information, we'll be in touch with next steps to help get you started.
Now is not the time to turn away from the cruelty and trauma being inflicted on Black and Brown immigrants by the Trump administration.
Now is the time to confront it and take action to fight back. Sign up today to show that you're standing with the NAACP in this critical work.
In solidarity,
Derrick Johnson
@DerrickNAACP
President and CEO
NAACP
P.S. If you would like to read more about what I saw during my visit, and my plans for the NAACP's work at the border, consider reading my op-ed on BlackPressUSA.
Get Involved with "The POWER of FIVE"
http://naacp.org/mobilize-your-five/
---
CNN: President Derrick Johnson on 2 Mass Shootings in Less than 24 Hours.  
Dayton Daily News: Dayton NAACP monitoring shooting probe, seeking gun law changes
The Dayton NAACP president on Sunday said his group is monitoring the mass shooting investigation to make sure it is not a hate crime and wants sensible gun laws enacted.  More info
---
Black Press USA: NAACP Speaks Up On Gerrymandering
Let's start with gerrymandering—that is, when a political party shapes the boundaries of an electorate so it favors them—which the Supremes already ruled could not be done on the basis of race. The question before them was whether political gerrymandering, that is, gaming political maps so they disproportionately benefited their parties—was just as unconstitutional.  For more info.
---
NAACP Supports Impeachment Proceedings Against Trump
July 23, 2019
DETROIT – The NAACP supported a resolution today for the U.S. House of Representative to initiate Articles of Impeachment for Donald J. Trump during the 110th NAACP Annual Convention in Detroit.
"The pattern of President Trump's misconduct is unmistakable and has proven time and time again, that he is unfit to serve as the president of this country, said Derrick Johnson, President and CEO of NAACP.    Read the full article.
---
---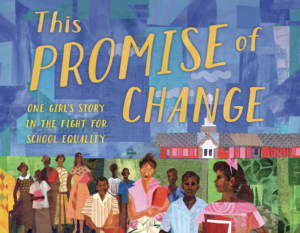 The Crisis: This Promise of Change
At 14, Jo Ann Allen Boyce was one of 12 students who integrated the White high school in Clinton in 1956, a year before the Little Rock Nine desegregated Central High School in Arkansas. While the world witnessed the hatred that the Little Rock Nine endured, the story of the Clinton 12 is lesser known. However, the Black students were also threatened and intimidated while desegregating a White school. Boyce left Clinton High School after only four months. Afraid for her daughter's safety, her mother moved the family to California. The school was bombed in 1958. | Tweet this
USA Today: On Brown v. Board of Education, Trump judicial nominees won't commit to US law and values
"Do you believe Brown v. Board of Education was correctly decided?" This might seem like a strange question to ask a judicial nominee in 2019. Sadly, it is starkly relevant thanks to recent signals from the Supreme Court that it is open to reconsidering long-established precedents and foundational values. | Tweet this
Black Press USA: OP-ED: Jamestown to Jamestown: Commemorating 400 Years of the African Diaspora Experience
History commonly points to late August in the year 1619 when some "20 and odd Negroes" originating from Angola arrived in the British colony of Jamestown, Virginia as the first documented enslaved Africans to land in what is now The United States of America. | Tweet this
The Crisis: To Dream Again: The Revival of School Integration
During the 40th annual Martin Luther King oratorical festival at our Oakland neighborhood public school earlier this year, the mosaic of children's faces revealed the full spectrum of our country's most diverse state. On this day, we adults experienced the world anew through the bright eyes of children. White and Black children alike advocated for justice and equality for their brown neighbors. | Tweet this
USA Today: Bernie Sanders to call for a ban on for-profit charter schools
Sen. Bernie Sanders will call for a federal ban on building for-profit charter schools in a major education policy address to be delivered Saturday in South Carolina, a senior campaign official for the 2020 presidential contender tells USA TODAY. | Tweet this
Color Lines: NAACP Opposes Federal Judicial Nominee, Senate Confirms Her Anyway
As the nation approaches the 65th anniversary of the Supreme Court's landmark ruling in Brown v. Board of Education tomorrow (May 17), the National Association for the Advancement of Colored People (NAACP) is trying to prevent the nation from reversing progress. | Tweet this
The Grio: Denver mayoral candidate flubs the acronym NAACP — in front of a Black web audience
Denver mayoral candidate Jamie Giellis, while on a live web streaming show was asked what the acronym NAACP meant — but drew a blank and found it hard to recover afterward. | Tweet this
Baltimore Sun: Howard NAACP hosting town hall in response to fatal shooting in Columbia
The Howard County NAACP chapter will host a town hall May 23 focused on promoting awareness of community resources such as youth programs and mental health and substance abuse services to Harper's Choice residents. | Tweet this
Indy Star: NAACP to Governor: Make social justice and equity part of Indiana's energy future
More than a dozen members of Indiana NAACP chapters met with Gov. Eric Holcomb this week to request representation on the state's new energy task force, hoping to ensure the state's energy policy does not disproportionately impact minority populations with pollution. | Tweet this
Fox 17: Tennessee NAACP President calls for resignation of Speaker Glen Casada
The Tennessee State Conference NAACP President has called for the resignation of House Speaker Glen Casada. "State of Tennessee House Speaker Rep. Glen Casada acknowledged today that there may be a problem with racism in the House of Representatives," Tennessee State Conference NAACP President Gloria Sweet-Love said Wednesday. | Tweet this
Pride Publishing Group: Tennessee Black Caucus, Tenn. NAACP president call for resignation of Casada
The Tennessee Black Caucus of State Legislators (TBCSL) and Tennessee State Conference NAACP President Gloria Sweet-Love are calling for the resignation of Tennessee House Speaker Glen Casada. | Tweet this
The Telegraph: Justice and injustice drives conversation at annual NAACP of Alton banquet
James Terry and Ed Gray received community service awards, James Gray was named president emeritus, and scholarships were given out at the 51st Annual Freedom Fund Banquet of the Alton Branch of the NAACP. | Tweet this
Statements
---
---
Texas Legislature
Texas' election chief resigns after voter citizenship flub
Read the story at:
https://abcnews.go.com/…/texas-election-chief-resigns-voter…
---
---
Texas Legislature
Many marijuana and pro-LGBTQ bills died this legislative session. Expect to see them back in 2021.
---
---
MESSAGE FROM NAACP PRESIDENT/CEO
It has been 100 days since William Barr was sworn in as Attorney General. At every opportunity, he has made it clear that he cannot be trusted to enforce our nation's laws.
We warned the Senate that he was selected not to protect the people, but rather to protect Trump. We warned that he was incapable of providing independent leadership of the Justice Department. Sadly, for our country, he has proven us correct over and over again. He is simply unfit to serve
It has been 100 days since William Barr was sworn in as Attorney General. At every opportunity, he has made it clear that he cannot be trusted to enforce our nation's laws.
https://support.naacp.org/onlineact…/EysFfKNhGUumByTy0Srd8g2
Weekly news update- April 24, 2019

Africa.com: Jamestown To Jamestown Memorial Trip To Ghana 
Jamestown to Jamestown will provide an opportunity for NAACP leadership, members and the African American community to travel from Jamestown, Virginia, to mark 400 years since the arrival of the first enslaved Africans at the landing site to the Jamestown section of Accra, Ghana a former port and slave market, for a memorial trip to honor both ancestors and the struggle for Black liberation in August.
BlackPress USA: In Black and White: Key Findings of American's View on Race in 2019 
As federal agents teamed with local fire investigators to probe a series of suspicious blazes at historically black churches in Louisiana in a 10-day span, the president of the NAACP called the destructive acts "domestic terrorism" and suggested they are the result of emboldened racial rhetoric sweeping the country.
WNYC: What to Do With Cannabis Related Criminal Records
Derrick Johnson, president and CEO of the NAACP, discusses the different ways legal states are dealing with prior cannabis-related criminal convictions, Twyla Carter, senior staff attorney at the ACLU's Criminal Law Reform Project, talks about the legal and civil rights implications of expungement. Then, George Gascón, District Attorney for San Francisco, will discuss San Francisco's expungement program, which L.A. and Chicago are using as a model for their own programs.
US NEWS: Daisy Bates Statue to Replace Confederate Figures in U.S. Capitol
Statues of Music Legend Johnny Cash and civil rights figure Daisy Lee Gatson Bates will be erected in the hallways of the U.S. Capitol, replacing the likenesses of two controversial Civil War figures. Arkansas Republican Gov. Asa Hutchinson last week signed a measure to replace the statues of Uriah Milton Rose and James P. Clarke with those of Cash and Bates.
Sun Sentinel: School vouchers foster segregation, fail to expand opportunities | Opinion
Adora Obi Nweze - Racial discrimination in education was the shameful status quo in this country until the Supreme Court's  Brown vs. Board of Education decision, which held that separate can never be equal, and called for integration "with all deliberate speed." Counties in several southern states closed their public schools entirely rather than comply with the decision, and instituted voucher programs to enable white taxpayers to access racially exclusive segregation academies.
Mass Live: NAACP calling for removal of Civil War monument on Martha's Vineyard 
A Martha's Vineyard Civil War monument erected nearly 130 years ago with ties to both the Union and Confederacy will be discussed Tuesday by the Oak Bluffs Board of Selectmen. The Cape Cod Times reported the discussion was prompted by a request by the local NAACP to remove two plaques associated with the monument.
Red & Black: UGA NAACP leads march against discrimination from South Milledge Avenue to campus 
On one side of campus on April 20, people were tailgating in preparation for G-Day with food, drinks and music. On another side, the University of Georgia chapter of the National Association for the Advancement of Colored People led a march down South Milledge Avenue, drawing attention to racial discrimination on campus.
My Panhandle: NAACP hosts representatives from FEMA and SBA in town hall meeting 
It's been more than six months after Hurricane Michael and many are still struggling to navigate the requirements for assistance from FEMA and the Small Business Administration. That's why the NAACP hosted a town hall for residents to get answers. Tonight representatives from FEMA, SBA, Housing and Urban Development and more were on hand to listen to concerns.
STATEMENTS
UPCOMING EVENTS:
 April 25, 10 AM ET | Cleveland, OH | RSVP
---
---
April 12, 2019 Weekly Updates- National Office
NAACP'S RESPONSE TO THE ARREST OF SUSPECT IN THE LOUISIANA CHURCH BURNINGS  
BALTIMORE – The NAACP issued the following statement regarding the arrest of Holden Matthews in connection to fires at three historically Black churches in Louisiana:
APRIL 11, 2019
"The arrest of Holden Matthews for the horrific burnings of Black churches in Louisiana is just another example of the hate-fueled times that we live in. In African-American communities in the South, church burnings are historically linked to expressions of racism and domestic terrorism. This is the same domestic terrorism that has been the hammer and chisel used to chip away at the humanity of Black Americans and the suppression of our political power.   
Read more.
---
NAACP PRESIDENT RESPONDS TO PRESIDENT TRUMP'S ISLAMOPHOBIC TWEET
APRIL 13, 2019
NAACP President and CEO, Derrick Johnson, released the following statement in response to President Trump's Islamophobic tweet:
"Trump's recent tweet invokes painful memories to promote his racist agenda. This is maddening but not surprising for a President whose presidential campaign and presidency has been based on hate, xenophobia, and bigotry. The President needs to realize that his words have the power to incite hate, violence, and ignorance that is nothing but a detriment to our society."
---
NAACP CONDEMNS GOP RULE-BREAKING TO PACK THE COURTS
APRIL 2, 2019
Derrick Johnson, President and CEO of the NAACP, made the following statement in response to Senate Majority Leader Mitch McConnell's reckless move to shorten the Senate's consideration for district court nominees and certain executive nominees.
"The NAACP strongly condemns Senate Majority Leader McConnell's approach for breaking the rules once again to harm our justice system.  Read more.
---
MAISHA SIMMONS TO LEAD NAACP FOUNDATION RELATIONS EFFORTS
APRIL 5, 2019
BALTIMORE (April 5, 2019)–Maisha Simmons, MPA recently joined the NAACP as the Deputy Chief Director of Development/ Sr. Director of Foundation Relations. Most recently Simmons served as a Senior Program Officer at the Robert Wood Johnson Foundation (RWJF) in an administrative role supporting the management of team operations and functions.
"We are excited to have Maisha as part of the Development Team at the NAACP to lead our efforts in Foundation Relations. She brings to our organization deep and trusted relationships within the philanthropic community and has the passion and dedication to support partnership between the NAACP and the funder community," said Derrick Johnson, NAACP President and CEO.  Read more.
---
April 1, 2019
With critical NAACP initiatives, I like to reach out to our core supporters well in advance. So, I'm coming to you a bit early on this one—365 days early to be exact.
On this day next year, the Census will be taking place. It's important that we fight now to ensure that the process is done in a fair and just way that does not hurt people of color and other marginalized communities.
Why?
Because the results of the 2020 Census serve as the basis for redistricting, the enforcement of voting rights laws, and allocating congressional seats to each state. Census population data is also used by the federal government to distribute billions of dollars to local, state, and tribal governments.
Unfortunately, the Trump administration continues to underfund and mismanage the Census process, laying the groundwork for a dramatic undercount that would dilute the political power of racial and ethnic minorities and deprive communities of color of critical federal funds.
None of us can just stand by and allow the Trump administration to use yet another tool to rip away funding from and diminish the political power of communities of color.
That's why the NAACP is keeping up our fight against the administration in the courtroom, and that's why we need you to join us in the battle for a fair Census by volunteering with the NAACP to get the word out about the Census in your community.
A count of America's population that does not accurately capture people of color is a count that erases our value and our concerns.
Every American should be counted, and the NAACP will be on the forefront of making sure that happens. I hope you'll take action today to show that you're with us.
Fighting forward,
Derrick Johnson
@DerrickNAACP
President and CEO
NAACP
---
---
MARCH 23, 2019
NAACP shows solidarity with LGBTQ Community and backs Equality Act
'We support it': NAACP endorses LGBTQ Equality Act  Read more.
The African-American civil rights group, which shepherded the 1964 Civil Rights Act into law, endorsed adding LGBTQ people to those the act protects. 
Read more.
---
---
Bronx News: Rep. Ocasio-Cortez speaks at NAACP's Women's History Month event
Rep. Alexandria Ocasio-Cortez was the keynote speaker at a special Women's History Month event Sunday in Parkchester. The event at St. Paul's Lutheran Church on McGraw Avenue was organized by the Parkchester branch of the NAACP. This year, it celebrated the achievements of women in today's political climate. Ocasio-Cortez spoke about racial injustice and the strides that women -- and women of color -- are making today.
Read more and watch the video.
---
---
Clean Energy: TN NAACP College & Youth Division: Preparing for Climate Change
On March 1st The TN-NAACP College and Youth Division opened up for the 15th Annual Race Relation/Advocacy Summit in Jackson, TN by hosting a Youth & Community Town Hall meeting. As the co-chair of the Environmental Climate and Justice (ECJ) committee for TN NAACP State Conference, I was honored to participate this year in the advocacy planning for the College and Youth's Division's Town Hall Meeting.  Read more.
---
NAACP COMMENDS HOUSE PASSAGE OF FOR THE PEOPLE ACT – H.R. 1 ELECTION REFORM BILL
MARCH 8, 2019
For the People Act
BALTIMORE (March 8, 2019)—The nation's leading civil rights organization issued the following statement regarding today's passage of groundbreaking election reform bill For the People Act/H.R. 1 by the U.S. House of Representatives.  Click here for the full statement.
---
NAACP'S RESPONDS TO GEORGIA STATE SENATE'S DECISION TO PROTECT CONFEDERATE STATUES
MARCH 8, 2019
BALTIMORE – President and CEO of the NAACP Derrick Johnson issued the following statement regarding the Georgia State Senate's passage a bill this week that will further protect Confederate monuments, increase penalties for vandalism and prevent local governments from removing them:
"The NAACP stands with its Georgia State Conference and branches in condemning the Georgia Senate's decision to further protect Confederate monuments. This action shows that they are willing to endorse racism and oppress of a third of its citizenry. White supremacy is personified in these monuments.  And while Klansmen, neo-Nazis, and white nationalists defend them as an innocent representation of a mythologized "American Heritage," we know that these symbols glorify treason and a hateful history of black subjugation, reinforced through domestic terrorism.
Read the full statement- Click here.
---
Women's History Month
DEAR YOUNG DORIS ANN…
MARCH 7, 2019
It's Women's History Month! The NAACP will be sharing letters written by our regional Women In the NAACP (WIN) Coordinators to their younger self. Our first highlight comes from Doris Ann Cabaniss Shipman of Region 5.
Read her letter to herself- Click here.
---
NAACP INFUSING SOCIAL JUSTICE INTO WALL STREET IN HISTORIC BELL RINGING GROUP JOINS WITH IMPACT SHARES IN HIGHLIGHTING NEW MINORITY IMPACT ETF
Discussion on "Using Capital Markets to Create Social Equity" to Precede Event
Contact: Malik Russell – mrussell@naacpnet.org
NEW YORK – February 26, 2019 – The National Association for the Advancement of Colored People (NAACP) will join Impact Shares, the first 501(c)(3) nonprofit exchange-traded fund (ETF) platform, in ringing the Closing Bell at the New York Stock Exchange (NYSE), on Tuesday, February 26, to highlight the launch of the NAACP Minority Empowerment ETF (NYSE Arca: NACP).
---
EDITORS' PICK: 28 BLACK-OWNED BUSINESSES ON THE RISE
FEBRUARY 26, 2019 / BY VANESSA MBONU
Black History Month might be drawing to a close, but the celebration of all things Black should be a year-long event. Taking into account that Nielsen estimates the Black buying power to be at $1.2 trillion,  a great way to celebrate Black culture should be to put some of this money back into our communities.  In the age of social entrepreneurship, Black businesses both small and large are more rich and creative than ever, so there's no shortage of products and services for us to lift up.
From vegan soul food to smartphone companies, and in no particular order, our social team has curated a list of 28 Black Businesses that are on the rise.
---
February 27, 2019
BALTIMORE – NAACP President and CEO Derrick Johnson issued the following statement regarding Michael Cohen's testimony before the U.S. House of Representatives Committee on Oversight and Reform:
"When someone shows you who they are, believe them the first time. Donald Trump has been showing us his true colors for decades. Trump's presidency and entire career has been an affront to civil rights so nothing in Michael Cohen's testimony is surprising for a person that has historically racialized and stigmatized those around him. From his racist housing practices, to his villainization of the Central Park 5, to his birther accusations against President Obama, to creating safe havens for white supremacists – all of this maps out the actions and personality of a liar and a racist who is wholly uninterested in advancing the cause of civil rights. This testimony just further proves what we already knew: we have a sitting president, who is a co-conspirator to a potential crime of a foreign nation that meddled in our election, prompted voter suppression tactics and ultimately subverted our democratic process. Trump has proven in his words, in his deeds and in his policies that he's not worthy of his position as the leader of the free world and Cohen's testimony only cements this."
---
---
Weekly Updates- President/CEO Derrick Johnson
February 11, 2019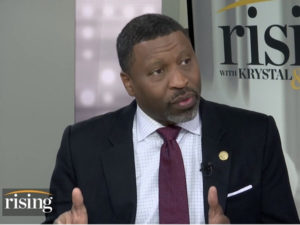 ---
---
We just won a huge ruling in federal court—you need to know about this:
This administration's plans for the 2020 census would drastically undercount African Americans and other people of color across the country. And an undercount like that would lead to unequal political representation and reduced federal funding for communities of color.
So the NAACP and our allies are challenging the administration's census plans in federal court. And just yesterday, a District Court judge rejected the government's motion to dismiss our lawsuit, writing "[T]he census must be conducted in a way that will not thwart the goal of equal representation."
---
NAACP STATEMENT ON RACIST AND HOMOPHOBIC ATTACK ON JUSSIE SMOLLETT
"The recent racist and homophobic attack on acclaimed actor and activist Jussie Smollett is troubling. The rise in hate crimes is directly linked to President Donald J. Trump's racist and xenophobic rhetoric.   Read the full Press Release.
---
Trump is undoing the diversity of the federal bench
The Rev. Martin Luther King Jr.'s vision and leadership in pursuing equality for all left an enduring legacy of immeasurable significance for the country that honored him this week. His call for leaders "in love with justice" and "with humanity" has taken on a special urgency during the Trump administration.  Read the full opinion.
---
FIRST STEP ACT IS SIGNED INTO LAW/ SEE HOW    EVERYONE VOTED
---
ANTI-LYNCHING BILL PASSES THE U.S. SENATE
DECEMBER 20, 2018
Late in the afternoon of 12/19, the U.S. Senate unanimously passed S. 3178, the Justice for Victims of Lynching Act, which was originally introduced by Senators Kamala Harris (CA), Cory Booker (NJ) and Tim Scott (SC).  This crucial legislation would make lynching a hate crime, therefore eligible for the additional federal tools and resources used to investigate and prosecute hate crimes.  The fate of the legislation is currently up to the House of Representatives; if the bill does not pass prior to adjournment, the legislation will die and need to begin the process all over again in the 2019 – 2020 session. 
---