NAACP COMMENDS HOUSE PASSAGE OF FOR THE PEOPLE ACT – H.R. 1 ELECTION REFORM BILL
MARCH 8, 2019
For the People Act
BALTIMORE (March 8, 2019)—The nation's leading civil rights organization issued the following statement regarding today's passage of groundbreaking election reform bill For the People Act/H.R. 1 by the U.S. House of Representatives.  Click here for the full statement.
---
NAACP'S RESPONDS TO GEORGIA STATE SENATE'S DECISION TO PROTECT CONFEDERATE STATUES
MARCH 8, 2019
BALTIMORE – President and CEO of the NAACP Derrick Johnson issued the following statement regarding the Georgia State Senate's passage a bill this week that will further protect Confederate monuments, increase penalties for vandalism and prevent local governments from removing them:
"The NAACP stands with its Georgia State Conference and branches in condemning the Georgia Senate's decision to further protect Confederate monuments. This action shows that they are willing to endorse racism and oppress of a third of its citizenry. White supremacy is personified in these monuments.  And while Klansmen, neo-Nazis, and white nationalists defend them as an innocent representation of a mythologized "American Heritage," we know that these symbols glorify treason and a hateful history of black subjugation, reinforced through domestic terrorism.
Read the full statement- Click here.
---
Women's History Month
DEAR YOUNG DORIS ANN…
MARCH 7, 2019
It's Women's History Month! The NAACP will be sharing letters written by our regional Women In the NAACP (WIN) Coordinators to their younger self. Our first highlight comes from Doris Ann Cabaniss Shipman of Region 5.
Read her letter to herself- Click here.
---
NAACP INFUSING SOCIAL JUSTICE INTO WALL STREET IN HISTORIC BELL RINGING GROUP JOINS WITH IMPACT SHARES IN HIGHLIGHTING NEW MINORITY IMPACT ETF
Discussion on "Using Capital Markets to Create Social Equity" to Precede Event
Contact: Malik Russell – mrussell@naacpnet.org
NEW YORK – February 26, 2019 – The National Association for the Advancement of Colored People (NAACP) will join Impact Shares, the first 501(c)(3) nonprofit exchange-traded fund (ETF) platform, in ringing the Closing Bell at the New York Stock Exchange (NYSE), on Tuesday, February 26, to highlight the launch of the NAACP Minority Empowerment ETF (NYSE Arca: NACP).
---
EDITORS' PICK: 28 BLACK-OWNED BUSINESSES ON THE RISE
FEBRUARY 26, 2019 / BY VANESSA MBONU
Black History Month might be drawing to a close, but the celebration of all things Black should be a year-long event. Taking into account that Nielsen estimates the Black buying power to be at $1.2 trillion,  a great way to celebrate Black culture should be to put some of this money back into our communities.  In the age of social entrepreneurship, Black businesses both small and large are more rich and creative than ever, so there's no shortage of products and services for us to lift up.
From vegan soul food to smartphone companies, and in no particular order, our social team has curated a list of 28 Black Businesses that are on the rise.
---
February 27, 2019
BALTIMORE – NAACP President and CEO Derrick Johnson issued the following statement regarding Michael Cohen's testimony before the U.S. House of Representatives Committee on Oversight and Reform:
"When someone shows you who they are, believe them the first time. Donald Trump has been showing us his true colors for decades. Trump's presidency and entire career has been an affront to civil rights so nothing in Michael Cohen's testimony is surprising for a person that has historically racialized and stigmatized those around him. From his racist housing practices, to his villainization of the Central Park 5, to his birther accusations against President Obama, to creating safe havens for white supremacists – all of this maps out the actions and personality of a liar and a racist who is wholly uninterested in advancing the cause of civil rights. This testimony just further proves what we already knew: we have a sitting president, who is a co-conspirator to a potential crime of a foreign nation that meddled in our election, prompted voter suppression tactics and ultimately subverted our democratic process. Trump has proven in his words, in his deeds and in his policies that he's not worthy of his position as the leader of the free world and Cohen's testimony only cements this."
---
---
Weekly Updates- President/CEO Derrick Johnson
February 11, 2019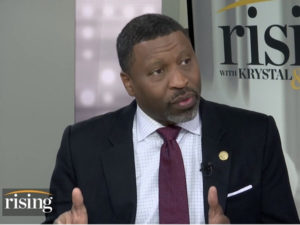 ---
---
We just won a huge ruling in federal court—you need to know about this:
This administration's plans for the 2020 census would drastically undercount African Americans and other people of color across the country. And an undercount like that would lead to unequal political representation and reduced federal funding for communities of color.
So the NAACP and our allies are challenging the administration's census plans in federal court. And just yesterday, a District Court judge rejected the government's motion to dismiss our lawsuit, writing "[T]he census must be conducted in a way that will not thwart the goal of equal representation."
---
NAACP STATEMENT ON RACIST AND HOMOPHOBIC ATTACK ON JUSSIE SMOLLETT
"The recent racist and homophobic attack on acclaimed actor and activist Jussie Smollett is troubling. The rise in hate crimes is directly linked to President Donald J. Trump's racist and xenophobic rhetoric.   Read the full Press Release.
---
Trump is undoing the diversity of the federal bench
The Rev. Martin Luther King Jr.'s vision and leadership in pursuing equality for all left an enduring legacy of immeasurable significance for the country that honored him this week. His call for leaders "in love with justice" and "with humanity" has taken on a special urgency during the Trump administration.  Read the full opinion.
---
FIRST STEP ACT IS SIGNED INTO LAW/ SEE HOW    EVERYONE VOTED
---
ANTI-LYNCHING BILL PASSES THE U.S. SENATE
DECEMBER 20, 2018
Late in the afternoon of 12/19, the U.S. Senate unanimously passed S. 3178, the Justice for Victims of Lynching Act, which was originally introduced by Senators Kamala Harris (CA), Cory Booker (NJ) and Tim Scott (SC).  This crucial legislation would make lynching a hate crime, therefore eligible for the additional federal tools and resources used to investigate and prosecute hate crimes.  The fate of the legislation is currently up to the House of Representatives; if the bill does not pass prior to adjournment, the legislation will die and need to begin the process all over again in the 2019 – 2020 session. 
---