The San Angelo Unit of the NAACP strives to keep important information in front of our members for them to take important action which has been identified as critical action from our National Office.  As information is provided to us, we will update our website here, with important action that is needed to combat the issue.
If you have questions about our position on any of the Action Alerts, please contact our President, Sherley Spears at:
---
---
ACTION ALERTS
May 25, 2019
It has been 100 days since William Barr was sworn in as Attorney General. At every opportunity, he has made it clear that he cannot be trusted to enforce our nation's laws.
We warned the Senate that he was selected not to protect the people, but rather to protect Trump. We warned that he was incapable of providing independent leadership of the Justice Department. Sadly, for our country, he has proven us correct over and over again. He is simply unfit to serve.
Add your voice by signing this petition.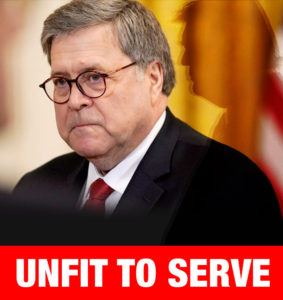 We CANNOT turn a blind eye as our democracy erodes.  Sign the petition to tell the administration we will not stand for this. 
Fighting forward,
President Johnson
@DerrickNAACP
President and CEO
NAACP
---
---
---
NAACP-SUPPORTED BILL UPDATING THE VIOLENCE AGAINST WOMEN ACT PASSES THE US HOUSE!
APRIL 5, 2019
Earlier today the U.S. House of Representatives passed, by a margin of 263 yeas to 158 nays, H.R. 1585, a bill to update and strengthen the NAACP-supported and very successful Violence Against Women Act of 1994 (VAWA).  VAWA has been reauthorized and strengthened by strong bipartisan majorities in 2000, 2005, and 2013.  The law is seen today as one of the most effective pieces of legislation enacted to end domestic violence, dating violence, sexual assault, and stalking.
We must now let the Senate know that half-measures such as a straight reauthorization of VAWA are not acceptable, nor are rollbacks of existing protections for survivors.
For more information on the legislation, as well as to see how each Member of the House voted and what you can do to help move this important bill through the Senate, please review the attached Action Update/Action Alert and take Fast Action.
---