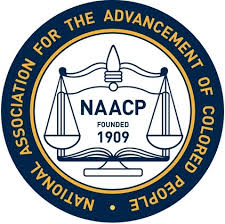 ---
---
March 24, 2019
FLYER NAACP Women of Worth2 24 19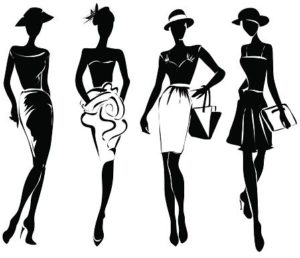 Women in NAACP - Women's Month Celebration
Women Of Worth (WOW)
A special program to celebrate the women in our past and present, who have worked to make a difference in the NAACP and in our community.  Come and help us celebrate these awesome women!  We invite women and men to celebrate our history with us!  Hosted by Women in NAACP (WIN)
Brunch menu and awards program.
Date:  March 24, 2019
Location:  San Angelo Fine Arts Museum (1 Love Street)
Time:  1:00 pm-4 pm
Attire:  Dressy and Festive
(This is a ticketed event.  Tickets are $15 per person; includes brunch and program)
PLUS. . .

A commemorative journal will offer you opportunities to share a special greeting of a woman who made a difference in your life.  Full page, and half page ads will be available.
For more information:  info-admin@sanangelonaacp.org
---
---
March 28, 2019                       6 pm- 8 pm
For business owners:  Social Media Basics   Presented by the Chamber of Commerce, Diversity Committee
FREE EVENT WITH DINNER!

RSVP and Registration Required  Click here to register.
---
---
April 16, 2019  Time:  1 pm-4 pm
Sexual Assault and Human Trafficking Presentation
Admission:  $10 per person- Tickets on sale now at:
Purchase your ticket:
https://www.eventbrite.com/e/tonya-stafford-survivor-advocate-speaker-tickets-58584689383
In recognition of Sexual Assault Awareness & Prevention Month, NAACP Unit 6219 is Co-Sponsoring with Open Arms Rape Crisis Center and LGBT+ Services, a discussion about:
Sexual Assault and Human Trafficking
Special Guest Speaker:  Tonya Stafford,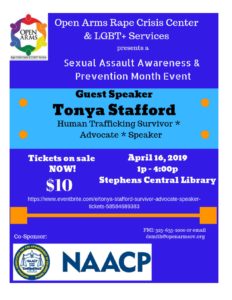 About the Speaker:
Tonya Stafford. A human trafficking survivor, advocate and speaker on issues of Human Trafficking and providing support of victims of abuse in Dallas Texas.  She is the founder of It's Going To Be Ok Inc., a nonprofit organization whose mission is to not only educate people about the horrors of human trafficking but to help in one day ending it completely.  Find out more about Tonya Stafford- click here!
General information:
While the impact of domestic violence and sexual assault crosses
all social, economic, and racial lines, there are barriers and
concerns that are unique to communities of color. Survivors of
color often face a lack of culturally appropriate services as well
as prevention & supportive resources in diverse languages.
Adding to these challenges is a lack of collaboration with the
community based social service programs that historically provide
services to communities of color. These conditions have led to an
often marginalized and under served population of survivors.  Find out more by clicking here.