October 6, 2018
We Deserve Better
News from President/CEO Derrick Johnson
This day will go down in infamy for the Senate's abject failure to exercise its constitutional duty to advise and consent. 
The reckless and deeply partisan rush to confirm Kavanaugh after critical issues were raised about his integrity, temperament, impartiality, history of sexual assault, and judicial record is disastrous. There is far too much at stake for every community not to have fully reviewed this nominee.
The American people deserved better than this. Now more than ever we must harness our frustration and use our voices at the ballot box in November so this grave injustice never happens again.
We must vote: our freedoms, our protections, and our lives depend on it.
Our democracy is on the line. Our lives are on the line on November 6. It's going to take all of us to make sure that on November 7 we wake up to a Congress and state legislatures that more closely reflect our interests and communities.
Make sure our volunteers and staff have the resources needed to reach the substantial number of infrequent voters we need to participate this year by chipping in to back our on-the-ground efforts. 
 
Join our efforts and support our work today.
 
In Solidarity,
Derrick Johnson
President and CEO
NAACP
===============================================
October 1, 2018
Weekly News Update (From our national office)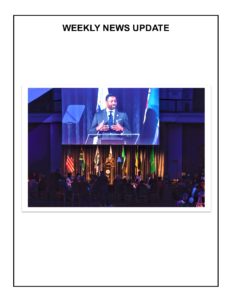 ~~~~~~~~~~~~~~~~~~~~~~~~~~~~~~~~~~~~~~~~~~~
===============================================
NAACP President and CEO Derrick Johnson penned an Opinion piece for the New York Times detailing the sentiments of Black voters' as they head to ballot boxes this November. Here's an except:
"Mr. Trump's bias is not only expressed in his language and assaults on the intelligence of people like Congresswoman Maxine Waters or LeBron James, but also through policy.
Whether we look at the Justice Department's pushing back against consent decrees to rein in police misconduct, Mr. Trump's nearly all white and male judicial nominees, or the Education Department's decision to pull back on investigations of civil rights cases, we see a pattern that devalues the gains that many earned through the ultimate sacrifice. It would seem that Mr. Trump's White House is engaged in none other than a war against civil rights.
We have waged war against the foes of civil rights for over 109 years, and, as such, perseverance in this fight inspires no fear in us."
Read full article. 
Text NAACP to 40649 or visit naacp.org/vote to stay up-to-date on our work throughout the 2018 elections. 
==============================================
Frustration With Racism Is Coming to the Ballot Box
By Derrick Johnson
Mr. Johnson is the president and chief executive of the N.A.A.C.P.
A new poll shows people of color feel disrespected and fed up — and they stand to influence many of the most competitive House races.
A new poll on voters' attitudes in the nation's most competitive House races showed that when it comes to perceptions of racism, there are two Americas — one in which people of color are distressed by President Trump's rhetoric and policies and another in which white Americans are far less convinced that there's a problem.
Read more by clicking the link below:
https://www.nytimes.com/2018/08/27/opinion/politics/midterm-elections-race-polling.html
===============================================
San Angelo- Jeremiah Plan- to Help Families on the verge of being Homeless!  Click the link below to find out more.
===============================================
NATIONAL CIVIL RIGHTS LEADERS DECRY RAW RACISM OF TRUMP
JANUARY 13, 2018
Amidst Principled Negotiations on the Dream Act, Trump Shows That One Value Drives His Decisions Above All Others: White Supremacy
Washington, D.C. – Yesterday, the raw racism of Donald Trump and those driving his immigration and other policy making decisions were on full display as he called for fewer Black people to be admitted into the United States in favor of white immigrants. This morning, the President doubled down on his comments offering a weak justification for his racist viewpoint.
Today, civil rights and immigrant rights organization leaders offered their perspectives on Trump's disturbing comments and their call for a return to a principle-driven negotiations on the Dream Act.
Click here for a recording of the call.
NAACP CALLS H&M AD RACIST AND UNACCEPTABLE
JANUARY 9, 2018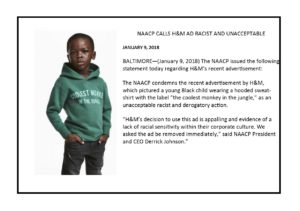 BALTIMORE—(January 9, 2018) The NAACP issued the following statement today regarding H&M's recent advertisement:
The NAACP condemns the recent advertisement by H&M, which pictured a young Black child wearing a hooded sweatshirt with the label "the coolest monkey in the jungle," as an unacceptable racist and derogatory action.
"H&M's decision to use this ad is appalling and evidence of a lack of racial sensitivity within their corporate culture. We asked the ad be removed immediately," said NAACP President and CEO Derrick Johnson."
NAACP TO LAUNCH SOLAR EQUITY INITIATIVE WITH MLK NATIONAL DAY OF SERVICE KICK-OFF EVENT
JANUARY 11, 2018
NAACP to Launch Solar Equity Initiative with MLK National Day of Service Kick-Off Event
Los Angeles, CA (January 10, 2018) – On January 13th, in observance of the Dr. Martin Luther King, Jr. Holiday and National Day of Service, the NAACP will kick off a civil rights economic and environmental justice initiative to connect 30+ communities of color and low income communities across the nation with solar energy infrastructure for homes and community centers, as well as skills training for solar jobs, all supported by strengthened solar equity policies.
PRESIDENT TRUMP AGAIN FALLS SHORT OF PRESIDENTIAL CHARACTER
Racist Attacks on Immigrant Communities and People of Color, Continue to Define His Administration
BALTIMORE—(January 11, 2018) The NAACP unequivocally denounces the most-recent racist comments by President Donald Trump.
"As our nation fights to move forward, our President falls deeper and deeper into the rabbit hole of racism and xenophobia. The United States' position as a moral leader throughout the world has been thoroughly damaged by the continuous lowbrow, callous and unfiltered racism repeatedly espoused by President Trump.  His decision to use profanity to describe African, Central American and Caribbean countries is not only a low mark for this President, it is a low point for our nation. This President's failure to grasp simple ideas of inclusion and maturity is an open sore on our democracy that continues to fester. It is clear that the President wants to return America to its ugly past of white supremacy where immigration laws as well as all laws of society only favored individuals from European nations and European ancestry. In fact, the President himself benefitted from those racially biased laws when his ancestors immigrated to this nation. Yet today, he wants to force the American public to pay billions to build a wall to block off our southern neighbors in exchange for the return of protections for DACA that were already guaranteed to immigrants before he came to office. As we head into 49th NAACP Image Awards being held on Dr. Martin Luther King, Jr.'s Holiday for the first time to honor his legacy, we realize that the Bull Connor of our day is none other than the President of our nation. As King fought then, we fight today against those seeking to implement slicker and newer forms of racial segregation."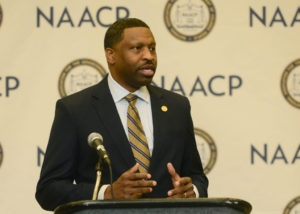 ===============================================