NATIONAL CIVIL RIGHTS LEADERS DECRY RAW RACISM OF TRUMP
JANUARY 13, 2018
Amidst Principled Negotiations on the Dream Act, Trump Shows That One Value Drives His Decisions Above All Others: White Supremacy
Washington, D.C. – Yesterday, the raw racism of Donald Trump and those driving his immigration and other policy making decisions were on full display as he called for fewer Black people to be admitted into the United States in favor of white immigrants. This morning, the President doubled down on his comments offering a weak justification for his racist viewpoint.
Today, civil rights and immigrant rights organization leaders offered their perspectives on Trump's disturbing comments and their call for a return to a principle-driven negotiations on the Dream Act.
Click here for a recording of the call.
NAACP CALLS H&M AD RACIST AND UNACCEPTABLE
JANUARY 9, 2018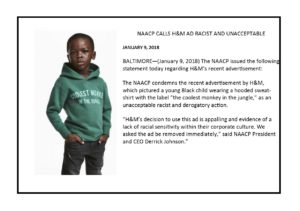 BALTIMORE—(January 9, 2018) The NAACP issued the following statement today regarding H&M's recent advertisement:
The NAACP condemns the recent advertisement by H&M, which pictured a young Black child wearing a hooded sweatshirt with the label "the coolest monkey in the jungle," as an unacceptable racist and derogatory action.
"H&M's decision to use this ad is appalling and evidence of a lack of racial sensitivity within their corporate culture. We asked the ad be removed immediately," said NAACP President and CEO Derrick Johnson."
NAACP TO LAUNCH SOLAR EQUITY INITIATIVE WITH MLK NATIONAL DAY OF SERVICE KICK-OFF EVENT
JANUARY 11, 2018
NAACP to Launch Solar Equity Initiative with MLK National Day of Service Kick-Off Event
Los Angeles, CA (January 10, 2018) – On January 13th, in observance of the Dr. Martin Luther King, Jr. Holiday and National Day of Service, the NAACP will kick off a civil rights economic and environmental justice initiative to connect 30+ communities of color and low income communities across the nation with solar energy infrastructure for homes and community centers, as well as skills training for solar jobs, all supported by strengthened solar equity policies.
PRESIDENT TRUMP AGAIN FALLS SHORT OF PRESIDENTIAL CHARACTER
Racist Attacks on Immigrant Communities and People of Color, Continue to Define His Administration
BALTIMORE—(January 11, 2018) The NAACP unequivocally denounces the most-recent racist comments by President Donald Trump.
"As our nation fights to move forward, our President falls deeper and deeper into the rabbit hole of racism and xenophobia. The United States' position as a moral leader throughout the world has been thoroughly damaged by the continuous lowbrow, callous and unfiltered racism repeatedly espoused by President Trump.  His decision to use profanity to describe African, Central American and Caribbean countries is not only a low mark for this President, it is a low point for our nation. This President's failure to grasp simple ideas of inclusion and maturity is an open sore on our democracy that continues to fester. It is clear that the President wants to return America to its ugly past of white supremacy where immigration laws as well as all laws of society only favored individuals from European nations and European ancestry. In fact, the President himself benefitted from those racially biased laws when his ancestors immigrated to this nation. Yet today, he wants to force the American public to pay billions to build a wall to block off our southern neighbors in exchange for the return of protections for DACA that were already guaranteed to immigrants before he came to office. As we head into 49th NAACP Image Awards being held on Dr. Martin Luther King, Jr.'s Holiday for the first time to honor his legacy, we realize that the Bull Connor of our day is none other than the President of our nation. As King fought then, we fight today against those seeking to implement slicker and newer forms of racial segregation."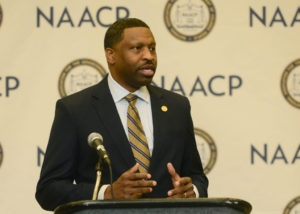 ===============================================
NAACP BOARD ELECTS DERRICK JOHNSON PRESIDENT & CEO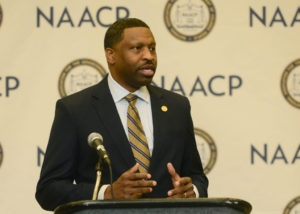 FOR IMMEDIATE RELEASE
MEDIA CONTACTS: Malik Russell/mrussell@naacpnet.org
Ronald E. Childs/rchilds@burrell.com
BALTIMORE (October 21, 2017) —The National Association for the Advancement of Colored People (NAACP), America's largest and original legacy civil rights organization, has unanimously elected Derrick Johnson president & CEO, it was announced today. Johnson, 49, has served as interim president and CEO since July of this year.
A Detroit native now residing in Jackson, Mississippi, Mr. Johnson, who was also elected vice-chairman of the Board of Directors in February of this year, is a longtime member, leader and a respected veteran activist who will be tasked with guiding the NAACP through a period of tremendous challenge and opportunity at a key point in its 108-year history. The NAACP has undergone transitions in leadership this year as it re-envisions itself to take on a tumultuous and contentious social and political climate. He will have a three-year term.  Read more.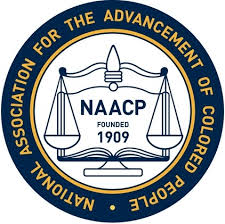 October 24, 2017
NAACP ISSUES NATIONAL TRAVEL ADVISORY FOR AMERICAN AIRLINES
Calls for Meeting with Airlines to Discuss Troublesome Issues
(October 24, 2017) – The NAACP, the nation's original and largest social justice advocacy organization, has released the following statement today announcing a travel advisory warning African Americans about their safety and well being when patronizing American Airlines or traveling on American Airlines flights:
"The NAACP for several months now has been monitoring a pattern of disturbing incidents reported by African-American passengers, specific to American Airlines. In light of these confrontations, we have today taken the action of issuing national advisory alerting travelers—especially African Americans—to exercise caution, in that booking and boarding flights on American Airlines could subject them disrespectful, discriminatory or unsafe conditions. This travel advisory is in effect beginning today, October 24, 2017, until further notice.  Read more.
PRESS RELEASE- October 24, 2017
AFT AND UFCW JOIN IN NAACP'S LAWSUIT TO PROTECT DACA
October 23, 2017
AFT and UFCW Join in NAACP's Lawsuit to Protect DACA
Groups Cites Trump's Disregard of Due Process for DACA Recipients
Baltimore—Two of the nation's most powerful unions joined the NAACP in a lawsuit defending DACA against the Trump administration's attempts to end the program.
Today, the American Federation of Teachers and the United Food and Commercial Workers joined the NAACP's lawsuit citing a lack of due process for DACA recipients and the Trump's administration's failure to undertake the required "analysis or rulemaking procedures required by the Regulatory Flexibility Act and the Administrative Procedure Act" –laws designed to protect the public against abuses of power.  Read more.
OCTOBER 24, 2017
October 23, 2017
DEADLINE LOOMS FOR U.S. REPORT TO THE UN ON RACIAL DISCRIMINATION
OCTOBER 23, 2017
As the Deadline Looms for U.S. Report to the UN on Racial Discrimination, Du Bois' "Appeal to the World" Remains Pertinent to the Contemporary Fight for Racial Equality
WASHINGTON, D.C. – On this day seventy years ago, the NAACP submitted a petition, "An Appeal to the World" edited  by W.E.B. Du Bois to the United Nations to address the denial of human rights to African Americans in the United States. Our organizations commemorate the 70th anniversary of this historic document and affirm our commitment to the goals of the International Convention on the Elimination of All Forms of Racial Discrimination (ICERD) and the significance of the upcoming U.N. review of United States' record on ending racism and racial discrimination in the United States.
The ICERD is the principal human rights treaty designed to protect individuals and groups from discrimination based on race, color, descent, or national or ethnic origin, whether the discrimination is intentional or the result of seemingly neutral policies. After the last U.N. review in 2014, the U.N. Committee on the Elimination of Racial Discrimination which monitors compliance with ICERD, issued Concluding Observations expressing concerns over prevalent racial discrimination in the United States that Du Bois first voiced in 1947.  Read more.
PRESS RELEASE October 9, 2017
NAACP RESPONDS TO TRUMP'S IMMIGRATION PRINCIPLES
BALTIMORE (October 9, 2017) – The National Association for the Advancement of Colored People (NAACP), America's oldest social justice organization, released the following statement in response to the immigration principles proposed by the Trump Administration yesterday.
"Despite his insistence on preserving the Deferred Action for Childhood Arrivals program, the immigration reforms proposed by President Trump last night prove once again that we cannot trust his hollow assertions. From demanding a border wall to illegally ending federal funding for Sanctuary Cities to increasing deportations of undocumented young people, these principles clearly show that the Trump Administration has no intention of creating pathways to citizenship for immigrants in America. Instead, the President's sole focus is to further marginalize communities of color and demonize immigrants, all just to appeal to his right-wing base," said Derrick Johnson, interim president and CEO of the NAACP.  Read more.
===============================================
Flooding Resource-Texas State NAACP Conference
Following is information to assist persons impacted by Hurricane Harvey.
~~~~~~~~~~~~~~~~~~~~~~~~~~~~~~~~~~~~~~~~~~
NAACP CONDEMNS 'UNITE THE RIGHT' HATE RALLY IN
CHARLOTTESVILLE, VIRGINIA

AUGUST 12, 2017
BALTIMORE – The National Association for the Advancement of Colored People (NAACP) released this statement following the unlawful hate rally of white nationalists in Charlottesville, Virginia, this morning.
"The blatant racism on display in Charlottesville is absolutely disgusting. It's hard to believe that in 2017 we are still plagued by so much race-based hatred. The NAACP will always stand against hate and any persons who threaten the moral right of our community," said Derrick Johnson, interim president and CEO of the NAACP.
"These kinds of actions should come as no surprise, however. We are living under an administration that campaigned on hatred, discrimination and xenophobia. They have given permission and a platform for bigots, like the right-wing, white nationalists in Charlottesville, to thrive and spread violence.
"While we acknowledge and appreciate President Trump's disavowment of the hatred which has resulted in a loss of life today, we call on the President to take the tangible step to remove Steve Bannon – a well-known white supremacist leader – from his team of advisers. Bannon serves as a symbol of white nationalism and his high place in the White House only energizes that sentiment."
"We must help to bridge what divides Americans rather than widen the gap between us. In the meantime, the NAACP stands strong with our brothers and sisters in Charlottesville who are gathering, marching and singing for peace. We are and will continue to be steadfast and immovable in the fight against discrimination, prejudice and hatred – and we are not afraid."
 NAACP STATEMENT ON
PRESIDENTIAL ELECTION
NOVEMBER 9, 2016
Baltimore, MD – NAACP National President and CEO Cornell William Brooks issued the following statement regarding the results of the 2016 presidential election:
"Even as we extend our congratulations to President-Elect Donald J. Trump, the NAACP, as America's oldest and largest civil rights organization, must bluntly note that the 2016 campaign has regularized racism, standardized anti-Semitism, de-exceptionalized xenophobia and mainstreamed misogyny. Voter suppression, as the courts have declared, has too become rampant and routine.