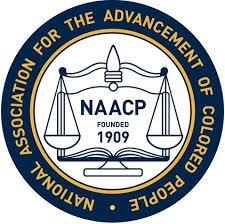 The monthly General Membership Meeting of NAACP Unit 6219 is held every first Saturday of the month at 2:00 pm.  The meeting location is the San Angelo Ministerial  Alliance Campus, 1100 Martin Luther King Dr.
Please join us at our next meeting.
November 3, 2018 at 2 pm.
~ ~ ~~
Freedom Fund Banquet- 2019
We're in the planning stages for the 2019 "Freedom Fund Banquet".  Join us, February 2, 2019 when we host our annual program.
Theme:  "We Choose Hope Over Fear"
Date:  February 2, 2019
Time:  6:00 pm
Location:  McNease Convention Center, San Angelo, TX
Special Feature:
Jazz Reception with Cash Bar and music
Guest Speaker:  Dr. Kymberly Butler-Devrouax,
a native of San Angelo and now a practicing physician in Pearland, TX
For more information and ways to participate as a Table Sponsor and purchase individual tickets, contact us at:
info-admin@sanangelonaacp.org
===================================================================